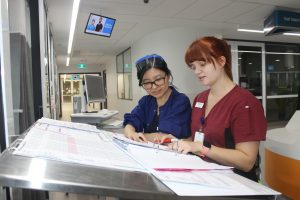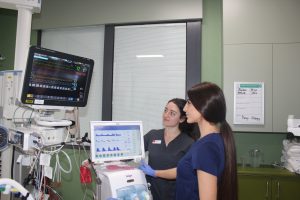 Specialties offered:
Emergency, Critical Care, Renal, Oncology/Palliative Care, Cardiac Care, Anaesthetic, Perioperative, Reconstructive Surgical (Plastics), Paediatric, Gerontology.
Overview
Northern Health is a major provider of acute, maternity, continuing care and ambulatory specialist services in Melbourne's north. Our campuses include Broadmeadows Hospital, Bundoora Centre, Craigieburn Centre and Northern Hospital Epping.
Aims
A postgraduate course prepares the Registered Nurse (RN) to function as a competent nurse within a chosen specialty. Northern Health offers you the opportunity to progress your career in your preferred specialty.
Support Model

All students employed within Northern Health in specialty units are supported by a team of qualified and experienced clinical nurse educators and unit staff.
Date of commencement
January – February 2020 with some mid-year commencements offered.
Length of Course
Academic: Trimesters (3)/semesters (2)/terms (4)dependent on university model.
Clinical: 52 weeks (or as otherwise negotiated) employed in the relevant specialty area.
University Partners
University of Melbourne: https://study.unimelb.edu.au/search?query=gradaute certificate in nursing practice 
La Trobe University: https://www.latrobe.edu.au/courses/master-of-nursing and https://www.latrobe.edu.au/courses/study-health 
Australian Catholic University: https://www.acu.edu.au/courses/postgraduate/nursing_and_midwifery/clinical_nursing/graduate_certificate_in_clinical_nursing 
Deakin University: http://www.deakin.edu.au/courses/find-a-course/nursing-and-midwifery 
Venues
The theoretical component of the course will utilize midwifery, nursing, medical and allied health staff who are both clinical and educational experts with affiliated universities. Clinical Rotations are dependent upon specialty.
Admission Criteria
The applicant:
Essential: Current registration with the Australian Health Practitioner Regulation Agency as a Division 1 Registered Nurse
A minimum of 12 months acute /relevant experience upon application
Preferable: STEP or Foundation Program in specialty area
Recent clinical experience relevant to the specialty applied for.
Fees
As per University and dependent on program model.
Study Leave & Scholarships
All students are eligible to apply for postgraduate study leave at Northern Health. Students must provide confirmation of enrolment at the relevant university. A portion of the study component is in the student's own time.
A Commonwealth Supported Place (CSP) may be available and also Fee Help. Your university will provide the information on enrolment.

Admission Process
Acceptance into relevant university and employment at Northern Health is required Criteria for application includes:
• Fulfil interview criteria for course commencement, obtainable from University.
• Complete University application form.
• Type written letter of application.
• Curriculum Vitae.
• Certified copy of Academic Transcript and/or Hospital examination results.
• Certified copy of Current Practicing certificate (as per AHPRA).
• Professional Practice Portfolio.
• Names, addresses and business telephone numbers of two (2) professional referees.
An application must be made to Northern Health on the Northern Health Career Opportunities website: https://www.nh.org.au/career-opportunities/
Contact the Clinical Educator for the specialty enquiries:
Emergency Clinical Nurse Educator: stacey.williamson@nh.org.au
ICU Clinical Nurse Educator: kelly.leiper@nh.org.au
Paediatric Clinical Nurse Educator: pamela.perera@nh.org.au
Cardiology Clinical Nurse Educator: maria.jolic@nh.org.au
Peri-operative /Anaesthetic Clinical Nurse Educator: nicole.emery@nh.org.au
Oncology Clinical Nurse Educator: mariana.grgat@nh.org.au
Renal Clinical Nurse Educator: fleur.caville@nh.org.au
Medical Clinical Nurse Educator: susan.brown@nh.org.au
Neonatal Clinical Nurse Educator: hannah.peace@nh.org.au
Gerontology Clinical Nurse Educator: brendan.mclaren@nh.org.au
Contact Us:
Postgraduate Program Coordinator – Nursing & Midwifery:
Annabel Milonas
postgraduatenurses@nh.org.au Phone: (03) 8405 8000 educationenquiries@nh.org.au
Postgraduate Information Evening:
University representation in conjunction with Northern Health will present information on all postgraduate courses. All welcome
Date: 8th August 2019, 6.30pm – 8pm
NCHER Building , Northern Hospital , 185 Cooper Street , Epping