Post Graduate Certificate: Emergency, Critical Care, Respiratory Renal, Cancer and Palliative Care, Cardiac Nursing, Peri-operative Anaesthetic, Reconstructive Surgical (Plastics), Paediatric & Neonatal Nursing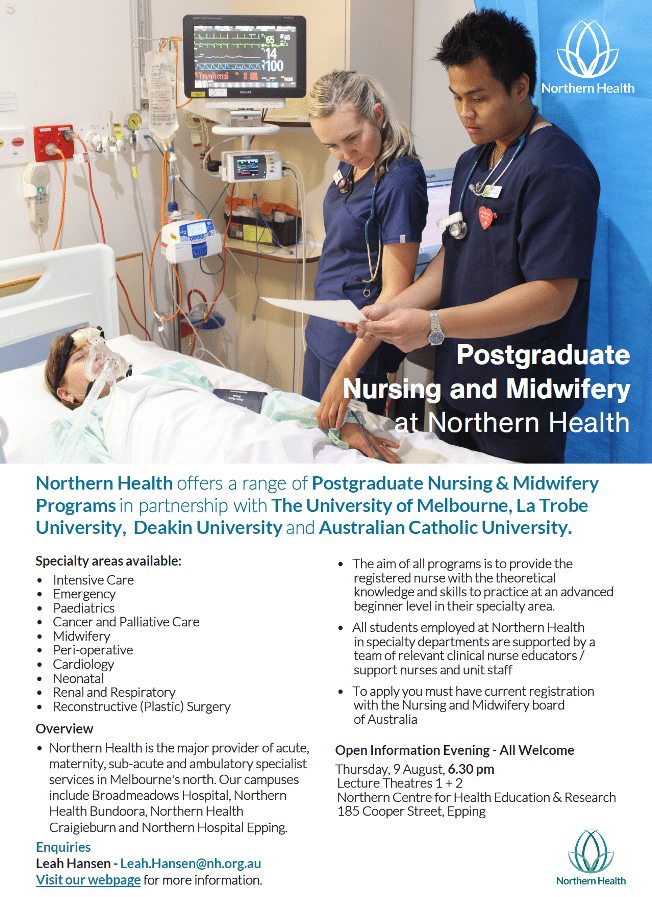 Aims
The primary aim of these courses is to prepare the Division 1 Registered Nurse (RN) to function as a competent nurse in the specialty areas of Nursing.
The course aims to:
• Analyse and refine a theory base, which will enable participants to practice at beginning level in their selected nursing specialty.
• Develop specific skills in assessment relevant to their selected nursing specialty.
• Utilise the major principles underpinning their nursing specialty to plan, implement and evaluate nursing practice.
• Enhance awareness of societal, professional, legal and ethical frameworks for specialty practice.
Date of commencement: Early 2019 some midyear commencements offered
Length of course: Academic: 2-3 trimesters/semesters
Clinical: 52 weeks (or as otherwise negotiated) employed in the relevant specialty department
Study days are conducted throughout the year
Students are employed on a year contract generally at 0.8 EFT per fortnight at the relevant substantive grade.
Award
Graduate Certificate in Specialisation of choice
Venues
Academic component:
The theoretical component of the course will utilise nursing, medical and allied health staff who are both clinical and educational experts within the relevant specialties with affiliated universities
Clinical component:
The Critical Care Department, Emergency Department, Cardiology Unit, Cardiac Cath Lab, Renal service, Acute medical units, Children's & Neonatal Unit or Operating Suites across Northern Health,
Clinical Rotations are dependent upon specialty
Formal Assessment (depending upon specialty) in clinical area
• Basic and Advanced Life Support skills
• Mechanical and Non-invasive Ventilation Skills
• Patient assessment skills (paediatric and adult)
• ABG sampling skills
• Clinical presentations
• Performance appraisals
• Triage assessment skills
• Anaesthetics
• Scrub / scout
• Recovery Room
• Haemodynamic monitoring
• Renal replacement therapy
• Cardiac pacing
• Intra-aortic balloon pump
Admission criteria
The applicant:
• Must have a current registration Australian Health Practitioner Regulation Agency as a Division 1 Registered Nurse
• Must have had a minimum of 12 months acute medical / surgical experience upon application (optional).
• Will preferably have had recent clinical experience relevant to the specialty applied for.
• Must provide documented evidence of continuing education relevant to the acute care area.
Admission process
An application must be made to Northern Health via e-recruit, on the Northern Health website: https://erecruit1.mercury.com.au/NorthernHealth/Default.aspx
Acceptance into relevant university and employment at Northern Health is required Criteria for application incudes:
• Fulfil interview criteria for course commencement, obtainable from University.
• Complete University application form.
• Type written letter of application.
• Curriculum Vitae.
• Certified copy of Academic Transcript and/or Hospital examination results.
• Certified copy of Current Practicing certificate (as per AHPRA).
• Record of continuing education in-service attendance.
• Names, addresses and business telephone numbers of three (3) professional referees.
Contact the course coordinator for the specialty of your choice for enquiries:
Emergency Clinical Nurse Educator: Elizabeth.Ward2@nh.org.au
ICU Clinical Nurse Educator: rebecca.bolzon@nh.org.au
Paediatric Clinical Nurse Educator: pamela.perera@nh.org.au
Cardiology Clinical Nurse Educator: maria.jolic@nh.org.au
Peri-operative Clinical Nurse Educator: nicole.emery@nh.org.au
Oncology Clinical Nurse Educator: mariana.grgat@nh.org.au
Renal Clinical Nurse Educator: lisa.donald@nh.org.au
Medical Clinical Nurse Educator: susan.brown@nh.org.au
Neonatal Clinical Nurse Educator: hannah.peace@nh.org.au
Support model
All students employed at The Northern Hospital in specialty units are supported by a team of qualified and experienced clinical nurse educators and unit staff.
Annual leave
Annual leave is accrued at five weeks per annum for full time staff and pro-rata for part time staff. Students are allocated up to four (4) weeks leave in two (2) week blocks during the course – negotiated with the Nurse Unit Manager. The remaining leave is paid out or transferred upon completion of the course.
Night duty
Night duty requirements differ depending upon the specialty department; four(4) to eight (8) weeks may be allocated at the end of each semester or upon completion of semester 2. No night duty in theatre.
Fees
As set by the University.
Study leave & Scholarships
All students are eligible to apply for postgraduate study leave at Northern Health. Students must provide confirmation of enrolment at the relevant university. A portion of the study component is in the student's own time
General information
Established in July 2000, Northern Health provides quality health care services to the expanding communities in Melbourne's northern suburbs. In one of Melbourne's busiest growth corridors, Northern Health offers the community health care services where they are needed – close to where people live.
Northern Health is made up of five campuses: Broadmeadows Health Service, Bundoora Extended Care Centre, Craigieburn Health Service, Panch Health Service and The Northern Hospital. Our campuses work together to provide a unique mix of services including medical, surgical, emergency, intensive and coronary care, paediatrics, & neonatal, women's and maternal health, mental health, aged care, palliative care, oncology, respiratory, renal and rehabilitation programs.
See the Northern Health website for more details on our service provision for the Northern community, strategic plan, mission and values and statements of priorities: www.nh.org.au