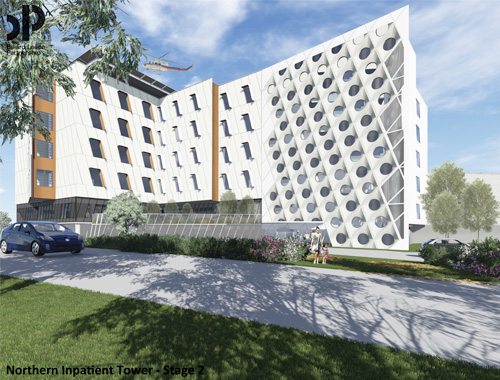 January 31, 2018
Northern Hospital Tower Stage 2
In May 2017, Northern Health welcomed the largest investment in health for Melbourne's northern community. The Victorian Government's announcement of $162.7m in funding from the State Budget will see Northern Health's tower grow an additional four storeys.
More state-of-the-art facilities and services will ensure patients are treated locally, in a timely manner by our highly skilled health care professionals, ensuring we continue providing outstanding health care to our community.
Early works, due to commence in March 2018, will see the development of 18 Intensive Care and High Dependency beds and a greater capacity for mortuary, loading dock and supply services at the Northern Hospital Epping.
Main works, due to commence early 2019, will increase the tower from three to seven floors which will include an additional 96 medical and surgical beds across three floors, a shell floor for future expansion, the addition of three new operating theatres, redevelopment of cardiology ward, a greater capacity for pharmacy and kitchen and future provision for a helipad.
Stage 1 of the Tower development was completed in June 2016, and we are thrilled to be moving on to the next stage of the development to ensure our hospital grows coincide with the health care demands of our community.
By expanding your local hospital and reconfiguring our wards, we are increasing our services and capacity to improve access and meet the growing demands of the northern community.