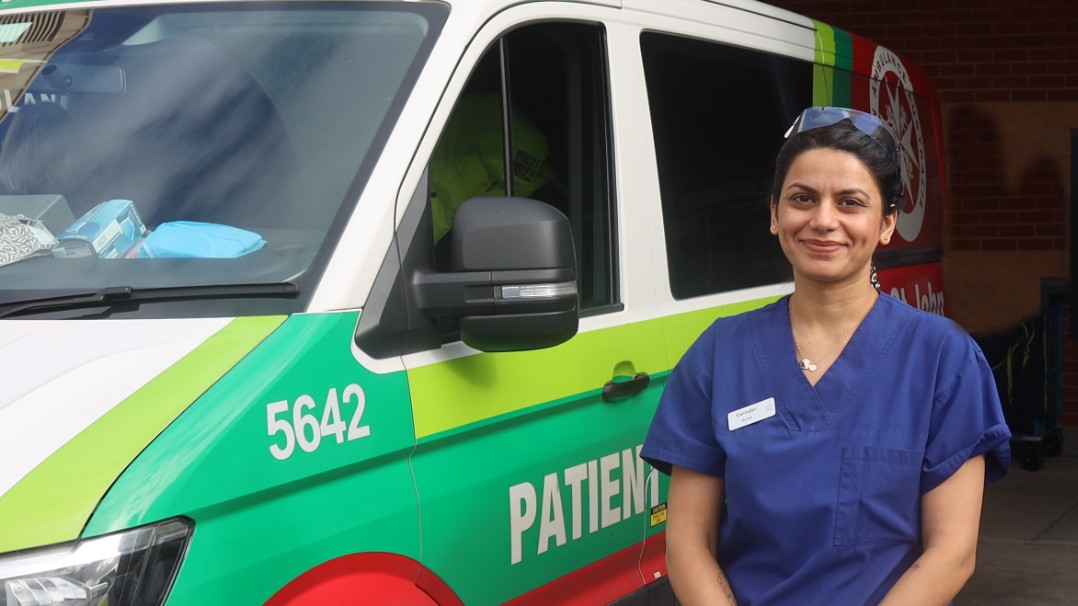 July 30, 2020
Even as a child in Punjab India, Varinder Bhalla, knew what she wanted to be; a nurse. But not just any nurse, says Varinder, "I always wanted to become an emergency nurse, ever since I could remember."
Today Varinder is working in our Emergency Department (ED), having successfully completed her nursing degree and a graduate year with Northern Health. Along the way, she  earned "14 high Distinctions, three Distinctions and a scholarship to study abroad. All that with a newborn on my hip and a pre-schooler," she says proudly.
Says Varinder, "It's not to brag, but it's to tell our younger generation and our aspiring future grads to not give up and work hard for your dreams, regardless what they might be feeling today."
Varinder says she was lucky enough to complete her ED rotation here as a student nurse and had the opportunity to see what it's actually like working in Victoria's busiest emergency department.
"I enjoyed the fast paced environment, the interesting clinical presentations, cultural diversity, clinical support and best of all, my wonderful colleagues in the department!"
Varinder describes her graduate year here as, "life changing," and says Northern Health supported her nursing career in every possible way. "The support that I have received from the clinical educators, graduate coordinators and my Nurse Unit Manager is indescribable."
She says she was able to consolidate the skills and knowledge that she acquired as a student nurse during her rotations in the surgical ward and ED. The exposure she received allowed her to return to work in ED with a lot more confidence.
Varinder says, "Northern Health transformed me from a novice student nurse to a proud emergency department nurse".
Her pride in her work is showing. Recently a patient she had looked after a few months before was in the Emergency Department as a visitor. Noticing Varinder with her nurse educators, he made it a point of telling them of the wonderful care that he had received from her.
Varinder is currently finishing her STEP program in ED, and also studying pathophysiology at the University of Melbourne in order to undertake her graduate certificate in emergency nursing next year.
She is clear, "I would like to continue growing with Northern Health and work as an ED ANUM in the next coming years."
She has this message for nursing students who doubt their ability to undertake graduate studies. "Grad year was the foundation of my nursing career. If I can nail that, then you can too!"