Northern Health is committed to providing safe care, and the safety and wellbeing of our patients, staff and community is of utmost importance. We have infection control measures in place, and it remains safe to attend all Northern Health sites for your required treatment and appointments.
At Northern Health we have been focused on our response to COVID-19, including daily Incident Team meetings, bringing together the best experts, both internally and externally.
Our Incident Control Centre are working closely with Department of Health and Human Services (DHHS), Health Purchasing Victoria and other health services on our collective response and how to best utilise resources.
Find out about: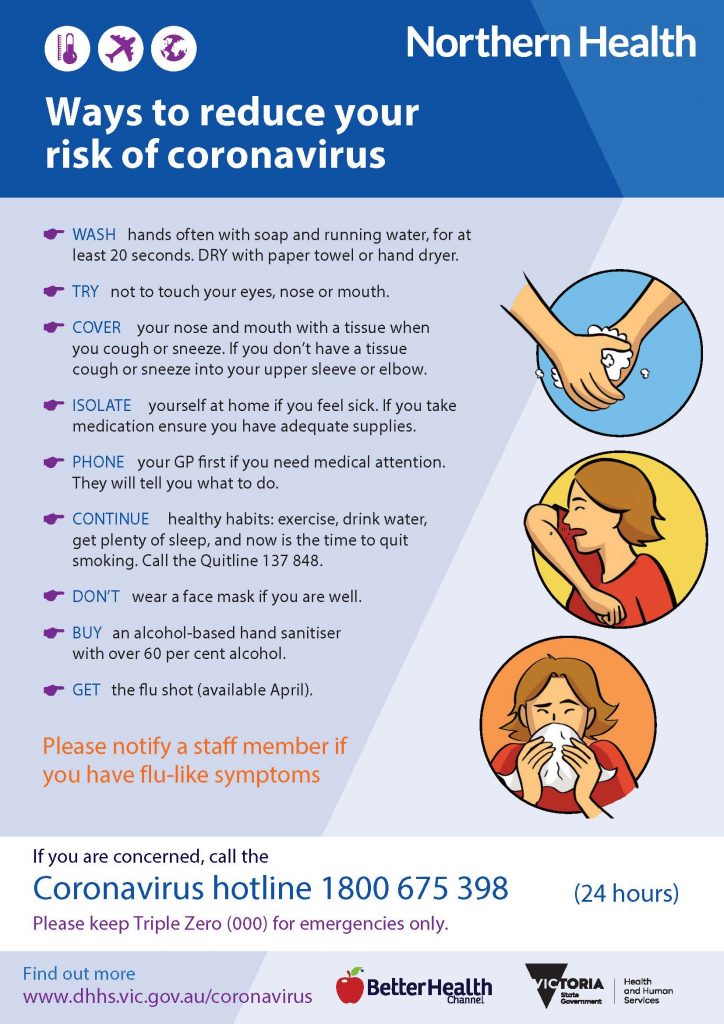 Visiting Northern Health
The following changes are effective from Monday, 30 March 2020:
Visiting Hours are from 4 pm to 8 pm
Maximum one hour visit
Only one visitor per day on all other ward/units (unless otherwise specified)
Visitors are now limited to close family members and significant others
Children under the age of 16 are not allowed
Social distancing must be practiced at the bedside
Emergency Department
One support person only please. However if the patient is confirmed for inpatient admission with suspected/confirmed COVID-19,  the support person will not be able to stay.
Intensive Care Unit
One support person only please.
Birthing Suite and Maternity Unit
 Women having their baby at Northern Hospital Epping can continue to have a partner or a support person with them in the Birthing Suite.
Children's Unit
One carer only please who can enter during visiting hours, and may stay 24/7
Day Oncology Unit
No visitors please.
Ian Brand Nursing Home
Visiting hours are from 4.30 pm to 5.30 pm. Only one visitor per resident please. No children under the age of 16 please.
Palliative Care Unit – Heritage Care
Visiting hours are between 11 am and 8 pm. Patients are able to have one visitor for up to two hours per day, during visiting hours. Patients who are nearing the end of life can have two visitors at a time.
For the safety of our patients, we ask that you do not visit Northern Health if you are unwell.
All visitors will be asked a series of health questions and will be temperature checked on arrival.
Fever Clinic
Northern Health has established a Fever Clinic to screen for potential COVID-19 (Coronavirus) cases at Northern Hospital Epping.
This clinic is open seven days a week from 9 am – 8 pm and is located next to DPV Health. When approaching, please follow the signage towards the clinic.
We encourage you to consult your GP or contact the Department of Health and Human Services Coronavirus Hotline on 1800 675 398 if you have any further questions.
To find out who our Fever Clinic is testing click here.
Useful Links